In the past, we've discussed recurring revenue services and how technology tools like the cloud are essential to improving recurring revenue opportunities. However, most integrators struggle with RMR. Over one-third of integrators say creating new areas of recurring monthly revenue is a major challenge and sending many teams back to the street searching out RFPs.
Dependence on RFP-based sales can result in volatile profitability due to low global win rates (below 50%) and difficulties engaging operations teams between major projects, making strategic partnerships crucial for integrators to escape the feast-or-famine cycle and secure consistent work from loyal clients.
In this article, we'll show you how (and why) you should take the leap from chasing RFPs to holding onto the customers you already have and deepening your relationship with them.
Let's jump in!
Stay Focused On the Customer Experience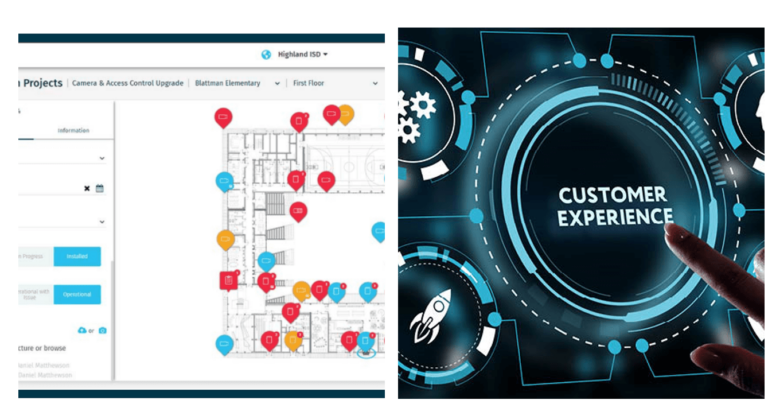 In today's competitive environment, staying on top of the customer experience is key to creating loyalty and recurring revenue. A report from Salesforce points out that 80% of customers say that the experience a company provides is as important as the products and services that it offers.
And this is true across all industries, from retail shopping to investment banking. If customers don't enjoy working with your team, they may not be eager to repeat that experience a second time.
In fact, many choose to find a new service provider. Research indicates that around 80% of people say they've stopped doing business with a company because of a poor customer experience.
Offering a smooth and streamlined experience can be key to differentiating yourself and becoming a strategic partner, creating repeat business for your organization.
Especially for practically-minded integrators, it might feel excessive to frequently check in with customers, assuage doubts, and thoroughly address all concerns. However, taking the time to do this builds trust and rapport that can only be generated through hard work and white-glove customer service.
Customers want a smooth process, and they want to feel like they've had an impact on the project's outcome that will likely cost their company millions. Show them a great time, and let them know that you're there to take care of them even after the installation is complete.
In doing so, you'll open the door to new recurring revenue opportunities and deeper customer relationships.
Deliver Projects On Time and On Budget
It might be hard to believe, but very few projects are actually delivered on time and budget. Across all sectors, including IT, government, and construction, PMI reports that only 62% of projects are completed within the original budget, and only about 55% are completed on time.
For customers, that's a huge problem. For integrators with the tools and the team to hit those milestones consistently, it's a huge opportunity and a great way to gain an advantage over competitors.
Hitting target goals and milestones isn't easy. (If it were, everyone would do it!) Integrators have to design and install a project while coordinating with project stakeholders, addressing unforeseen issues, and avoiding scope creep.
Part of great project delivery comes down to setting the right expectations — but that isn't the whole story. Customers often have specific or non-negotiable deadlines that integrators must meet to align with specific job requirements. Projects must flow smoothly to reach those goals.
At the same time, most integrators have some internal opportunities to create a faster and more efficient process. Cloud-based technology tools can help teams eliminate painful handoff meetings, quickly capture and compile daily job reports, and much more.
Automation tools reduce data entry, enhance customer communication, and expedite barrier notification for quicker resolutions. While some deadlines and budgets may be unreasonable, setting realistic expectations based on circumstances is vital. The right tools make daunting deadlines more approachable.
Keep In Touch With Your Customers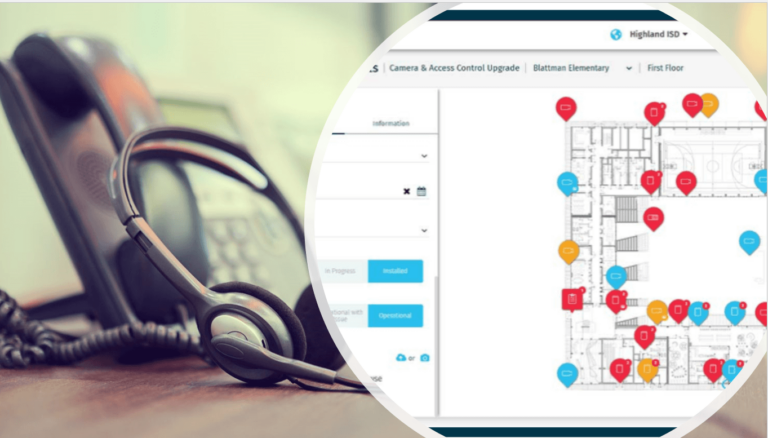 While it's critical to create a great experience and deliver projects on time and on budget, those two goals are designed to lay the groundwork for customer communication after the project is delivered and the customer's new system is up and running.
After the job has been completed, it's essential to stay in regular contact with customers and keep those lines of communication open. Integrators have a variety of ways to do this, including:
Post-installation check-ins with security professionals

Paid service plans for security systems

Maintenance and repair follow-ups for security equipment
The most common way to keep in touch is through email outreach. Despite a wide variety of other points of contact (social media, physical mail, etc.), email is still the most reliable tactic, used by around 80% of businesses to continue to retain customers.
But you don't need to send email blasts about video surveillance, service contracts, or vulnerabilities to keep customers engaged. Account managers can send light-touch emails to check on stakeholders, see how things are going with security management, and probe for new opportunities during the conversation.
The handover process involving a security camera can even be used to create a seamless customer transition. Once the project is complete and the final approvals have been received, have your project manager conduct a warm handoff with the service team as the customer transitions to a new department specializing in security system integrator. This can be done virtually using a tool like SiteOwl or face-to-face.
When customers are on a service plan with technical support, a new avenue of contact opens up because service teams can work to build rapport with in-house security teams while offering support. Follow-up calls are easy opportunities for reps to ensure everything is okay regarding the level of service while probing for future work in security solutions.
Staying in touch helps your company remain top of mind for the end-user involved in physical security systems. It gives you a headstart on competitors when a new opportunity materializes in the company pipeline. That way, as soon as your customer starts planning security integration for security cameras, you can help as soon as they start expanding or upgrading their system and access control.
Selling a great service plan is one of the best ways to deepen relationships and move customer accounts into a more strategic position.
But offering amazing service is more than just selling a plan and leaving the relationship alone to cool.
Offering excellent customer service at every point during the integration process is a critical way to signal to customers that you're the right company for them.
How important is it? According to the data, 90% of customers are more likely to purchase additional products and services, and 93% are more likely to be repeat customers at companies with excellent customer service.
Take the time to dissect your entire workflow and see how you can create a seamless experience every customer will love. Refining your workflow will improve the experience for every customer, whether or not you retain them long-term. However, these adjustments can also trigger greater retention when your process is superior to your competitors.
Building a great service team and having a plan in place to help customers after the installation is complete can play a major role in post-sale support and building customer loyalty over the long term.
Great customer service takes time, effort, and training to develop. However, for integrators looking to build out long-term, strategic partnerships, it's an essential skill that every manager and executive needs to master.
Use the 80/20 Principle to Select Ideal Customer Partners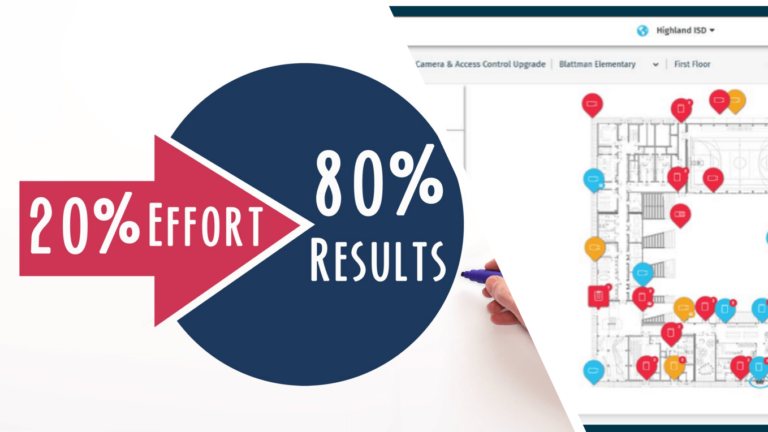 It's unlikely you'll be able to become a strategic partner for every customer in your portfolio.
Some customers simply won't need the help. Others won't have the budget to justify the time investment from your team. For many of these clients, simply offering a superior process and an excellent customer experience will be enough to retain them when they need to upgrade or expand.
Instead, it's best to focus on the high-value clients that are responsible for the majority of your recurring revenue. You can do that by conducting a Pareto analysis to figure out where most of your revenue comes from and which customers are likely to be the best opportunities for recurring revenue.
Unlocking Growth: Leveraging the Pareto Principle for Profitable Customer Partnerships
If you're unfamiliar with the name, the Pareto principle asserts that 80% of outputs come from around 20% of the inputs. And this concept is remarkably consistent across multiple industries and businesses.
When reviewing your accounts, you're likely to find the majority of your profits (around 80%) come from a select handful of customers (around 20% of the clients in your portfolio).
As a business opportunity, those are the customers you should start pursuing partnerships with since they're already the obvious choice in terms of total spending, existing relationships, and potential long-term profitability.
While you shouldn't drop other revenue opportunities, you may find that creating a strategic partnership with a major client quickly places you in a position where you're too busy (and no longer needed!) to spend time sending RFPs.
The security industry is busier than ever before. New tech, products, level of services, and business models have created a huge opportunity for savvy and driven integrators. Customers are looking for technology partners, not just technology vendors.
A recent survey found that over half of security, integrators saw volume stay the same or increase between 2019 and 2020, despite the pandemic and the global shutdown.
Even so, integrators also pointed to shrinking profit margins and stiff competition as major obstacles to growth and profitability. RMR is typically more profitable and helps smooth the lumpy project sales cycle, keeping the lights on when project business slows.
These changes in the industry are what make strategic partnerships so critical for teams in search of long-term success.
If you're looking for ways to stay ahead of the pack, contact our team to learn how SiteOwl can help you create new strategic opportunities with your customers.