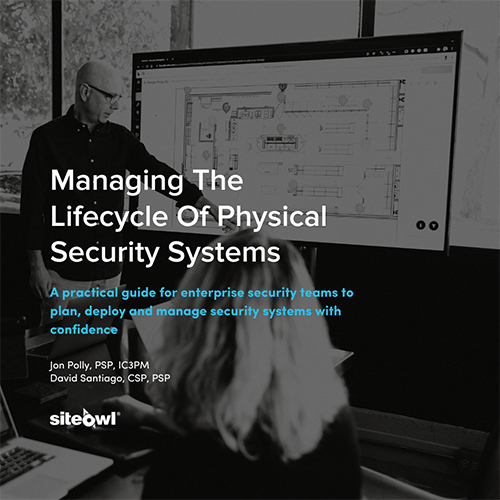 Managing the Lifecycle of Physical Security Systems
A practical guide to plan, deploy and manage physical security systems with confidence.
Security system Lifecycle management is complex. From knowing what assets you have to building an effective security plan, having actionable intelligence is critical. 
But how can you get actionable intelligence when information is stored in spreadsheets, paper-based plans, and a number of other systems that don't talk to each other?
When it comes to managing your physical security systems, the key to staying proactive requires a combination of technology, visibility, and the ability to make timely, data-driven decisions. 
To accomplish this, you need a proper lifecycle management plan and the support of a robust platform that enables you to track and manage all your system devices across multiple locations from a single interface. 
This concise ebook explains how you can leverage the power of cloud technology to maximize the lifecycle of your physical security systems and strengthen your security posture. 
Key highlights include:
Managing the lifecycle of your assets
Components of a robust lifecycle management program
Best practices to strengthen security posturing
Benefits of a cloud-managed lifecycle management system
Quantifying the ROI of your security investment
Jon Polly is the Chief Solutions Officer for ProTecht Solutions Partners, a security consulting and project management company.
An industry veteran, Jon has designed security systems and managed projects for city-wide surveillance and transportation camera projects in Raleigh and Charlotte, N.C.; Charleston, S.C.; and Washington, D.C.
Jon is certified is certified as a Physical Security Professional (PSP) through ASIS International, and in Critical Chain Project Management (IC3PM) by the International Supply Chain Education Alliance (ISCEA).
David A. Santiago (CSP, PSP)
David Santiago is a military veteran with extensive experience in security operations (SecOps) and risk management.
As a security director, David led teams in high-risk environments and worked with security professionals at the highest levels of the government, including the U.S. State Department.
Today, David uses his experience and passion for security to educate others about the importance of physical security and the ongoing cyber-physical convergence.