Whether buying for their home or business, customers primarily purchase security systems for safety, security, and peace of mind. Nobody wants to experience a break-in, fire, or other security incidents.
Unfortunately, installing a commercial security system is an order of magnitude more complex than home security systems. A standard commercial security project includes:
A video surveillance system consists of several security cameras connected to a central digital video recorder (DVR) or computer by Ethernet cables or via a Wi-Fi signal.

Access control system for limiting employee and visitor access to the building itself and specific areas within the building.

A commercial monitoring solution. 

End-to-end integrated security solutions.
In addition to their technological complexity, physical security systems installations are spread out over a large space — often across multiple buildings or locations. That adds additional layers of frustration for security integrators tasked with designing, installing, and servicing these devices.
Challenge of managing large installations
Integrators are continually seeking to solve operational challenges when managing large security installations. At a high level, this makes sense because a streamlined workflow throughout the security installation process leads to increased income and improved customer satisfaction and avoids missed deadlines and penalty fees for integrators.
The challenge is that most of the methods that security integrators are implementing to resolve field installation challenges are not improving performance or addressing the root cause. 
In simple terms, the root of the problem is limited visibility. So many security project managers struggle with large installations because they have limited visibility of their projects.
All of that changes with SiteOwl.
Today, we will show you exactly how SiteOwl helps integrators tackle some of the biggest challenges when installing commercial security systems.
Let's jump right in.
01. Conflicting/Missing Information
Every project manager has been here:
You're reviewing the security designs for a new business security system, but the details are wrong. Despite the team's best efforts when creating the original contract and scope of work, unforeseen obstacles and customer requests result in project changes or delays.
When you start to check previous iterations of the design, it's obvious that something was missed during revision. Now, the design needs to be altered before it can be shipped to the customer for final approval.
This happens in every major aspect of every security project. Confusion between teams results in conflicting information, and those oversights can result in designing a system that doesn't meet the customer's security needs.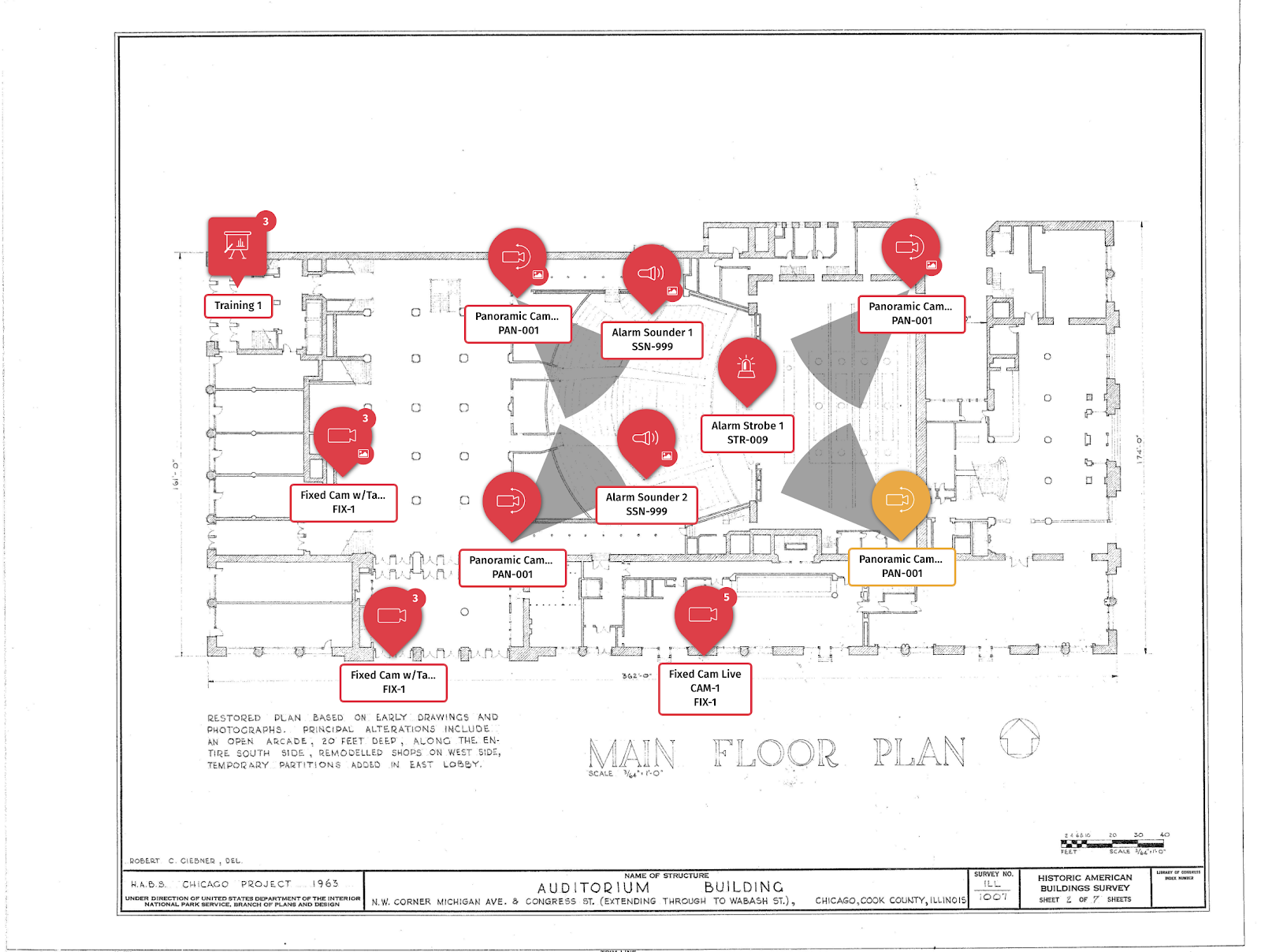 Internal Change Orders (ICOs) Impact Large Projects
Internal change orders (ICOs) create additional work outside the project's scope, requiring the integrator to cover extra expenditures to finish contracted projects.
Many security integrators are notoriously siloed when it comes to sharing information. As a result, the sales team forgets to communicate something critical, engineers miss crucial components of the design, field supervisors relay incorrect information to the rest of the team, or the daily job reports coming from the technician simply don't match the work done in the field.
It's a mess, and it's frustrating (and costly) for security integrators and business owners alike.
SiteOwl solves all of these problems in one simple and easy way. Instead of relying on multiple systems and files to handle your data, SiteOwl allows you to place all project information in a single location. And we mean everything.
SiteOwl can be used to store:
Security Designs
Floor Plans
Parts Lists
Labor Hours
Daily Job Reports
Service Tickets
Meeting Notes
Project Files
Equipment Schedules
Quality Control Images
Scope of Work Documentation
With SiteOwl, everyone working on a project — from designers to field technicians and customers — can access and work from the same information set. Plus, SiteOwl can be accessed via the web from a desktop computer or through our mobile app on a smartphone, so all stored information is accessible anywhere, anytime.
By acting as an information hub for your security projects, SiteOwl makes it easier to deliver the best business security systems around.
Have you ever had the pleasure of explaining that a project is delayed because of a part miscount?
Even if the person delivering your scope of work is reasonably qualified, it's challenging to ensure those drawings match with corresponding parts. In addition, this documentation is usually provided on multiple sheets of paper, making it confusing and difficult to follow for even the most experienced technician.
When technicians try to reconcile the parts with the locations, it's a disaster waiting to happen. The wrong part may be staged in the wrong area and negatively impact the overall quality of the project. This could be a costly and expensive delay for integrators subject to deadline penalties or project overages.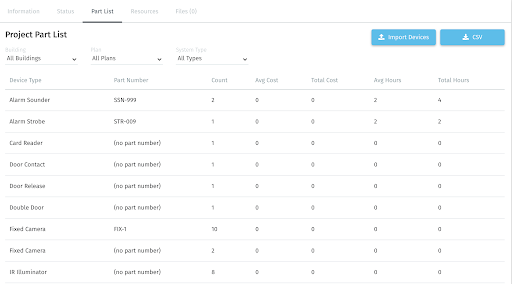 Automation eliminates confusion and minimizes errors
SiteOwl solves this problem by automating the parts list accrual as the project is designed. As designers create the surveillance system using drag-and-drop tools, SiteOwl keeps a running list of all necessary parts, including supplemental components like cables, power supplies, microphones, and other equipment-related equipment.
When the design is approved and ready to ship, you can download the parts list and place the order without having to double and triple-check your spreadsheets to ensure accuracy. Using SiteOwl, you'll know that your counts are accurate when your order is placed and that your team has everything they need to complete the installation process.
When the design is approved and ready to ship, you can download the parts list and place the order without having to double and triple-check your spreadsheets to ensure accuracy. Using SiteOwl, you'll know that your counts are accurate when your order is placed and that your team has everything they need to complete the installation process.
03. Customer Collaboration
One of the biggest challenges that integrators face when installing commercial security systems comes down to keeping customers in the loop. For integrators, this presents a customer service opportunity because research has proven that enhanced client experiences increase revenues.
While customers are often heavily involved in the design and approval process, project stakeholders can struggle to get answers from the integrator throughout the course of the installation.
This happens because managers are focused on managing teams, and technicians, resolving field issues, invoicing, and more. With so much going on, customer communication often takes a backseat. As a result, the customer feels disconnected from the team, and the integrator loses a key collaborator during the most important part of the process. 
Failing to fix this problem can result in unhappy customers and missed opportunities to correct outstanding problems before a job goes bad.

Visibility is the solution
SiteOwl helps you eliminate this problem completely by allowing customers to see what your team sees. Because SiteOwl can be used as a central repository for all project information, simply adding a customer to your SiteOwl project gives them the ability to monitor the real-time progress of their installation.
Not only does this deliver additional peace of mind to the customer, but it also helps them stay involved in the project as the installation moves forward. From the SiteOwl control panel, customers can review live floor plan installations and see what progress needs to be made in order to keep projects on time and on track.
Rather than having your PM chase down customer-requested information about a component in their intrusion detection systems, both the PM and the customer can review the details in SiteOwl.
Customers expect high-quality work in today's competitive economy. As a result, security integrators seek to be known for their high-quality services. However, security integrators face significant challenges in demonstrating their value and quality to customers, and one unsuccessful project can quickly derail an otherwise positive reputation.
One major reason for this gap is that integrators have difficulty holding technicians accountable. After the preliminary interview is complete, most integrators have to trust in a technician's qualifications and skill set. Beyond that, technicians often work independently or with a small team. As a result, there is no easy way to verify the quality of the work done onsite short of physically confirming every device the technician installs.
Add subcontractors into the equation, and you can easily see why managing large installations can be a challenging endeavor.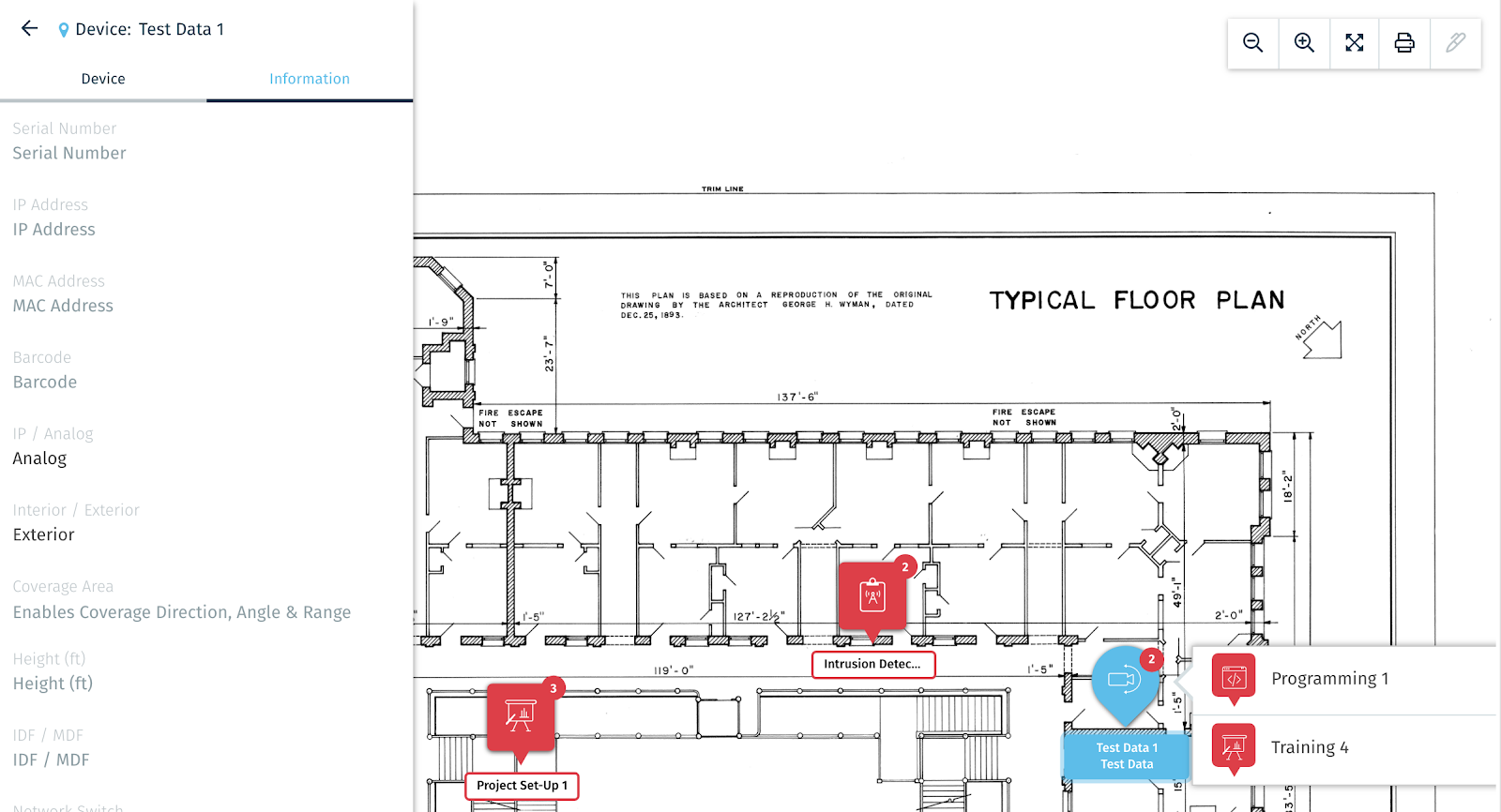 On-time and under budget
There hasn't been an effective mechanism to keep technicians accountable for the quality of their job or to have technicians report any concerns they see in the field until now. However, when you use SiteOwl to track project progress, that changes.
Within SiteOwl, project and field managers can manage large installations and ensure that the project is on time and under budget. 
The quality control features within SiteOwl enable project managers to: 
Track real-time field installation progress

Standardize technician job reporting

Automate progress reporting to stakeholders

Build-in quality control and accountability
These workflows are customizable. SiteOwl allows you to designate what should happen at each task and what information you need from the technician to prove that the installation was done successfully and at a high quality.
Customers know that a successful installation is only the beginning. Commercial security systems require constant maintenance and repair throughout their lifespan. Customers want to reduce system downtime and manage repair replacement and maintenance sustainably and cost-effectively. 
If you also have a service contract with your customer, most of this upkeep falls into post-installation maintenance and ticketing.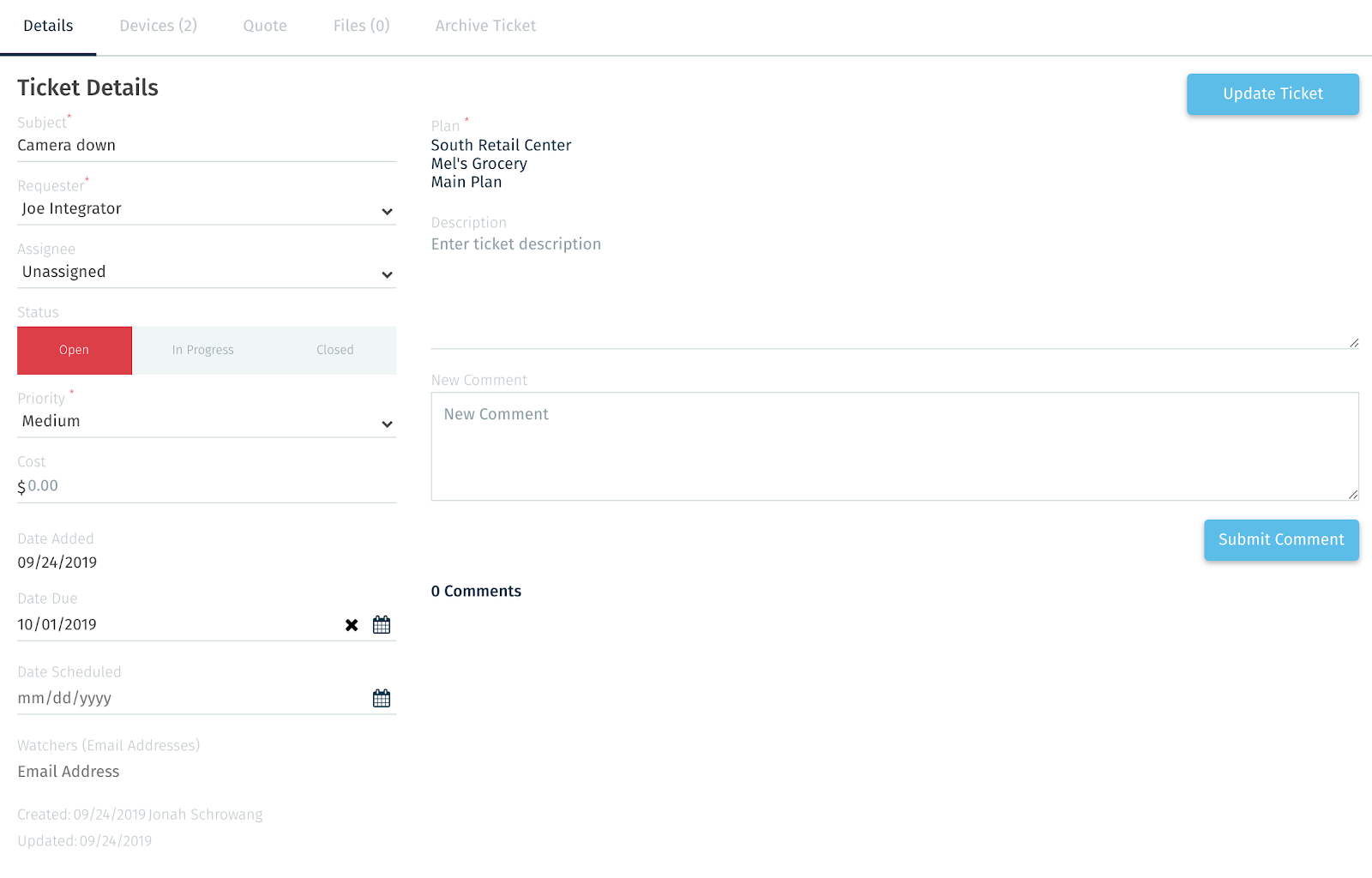 Ongoing security infrastructure management 
When customers submit a ticket, it's extremely easy for the necessary information to fall through. Unfortunately, this makes it difficult for your service team to complete the repair on the first visit. Often, technicians need to assess the problem before ordering and installing the parts. For integrators, this equates to multiple site visits to fix simple issues.
Instead of operating from a reactive position, the goal should be to equip your team with the tools they need to isolate problems, generate tickets, and keep systems running with minimal downtime.
SiteOwl can assist you in resolving both issues. With access to a Living Floor Plan, customers can track all their devices from a central platform. In addition, SiteOwl stores all part and serial information in the database, which enables customers complete visibility with real-time activity tracking. 
With SiteOwl, customers don't need to call you to submit a ticket. Instead, everything can be generated electronically within SiteOwl. This streamlines the ticketing workflow and makes it easier for technicians to assess and fix the problem. The result is a better customer experience which is key to creating loyalty and recurring revenue. 
Streamline Your Next Install With SiteOwl
Large installations often run on a tight schedule. Unexpected problems can increase overhead and affect net profits for integrators. Even for seasoned integration teams, robust video surveillance and alarm systems can rapidly become overwhelming.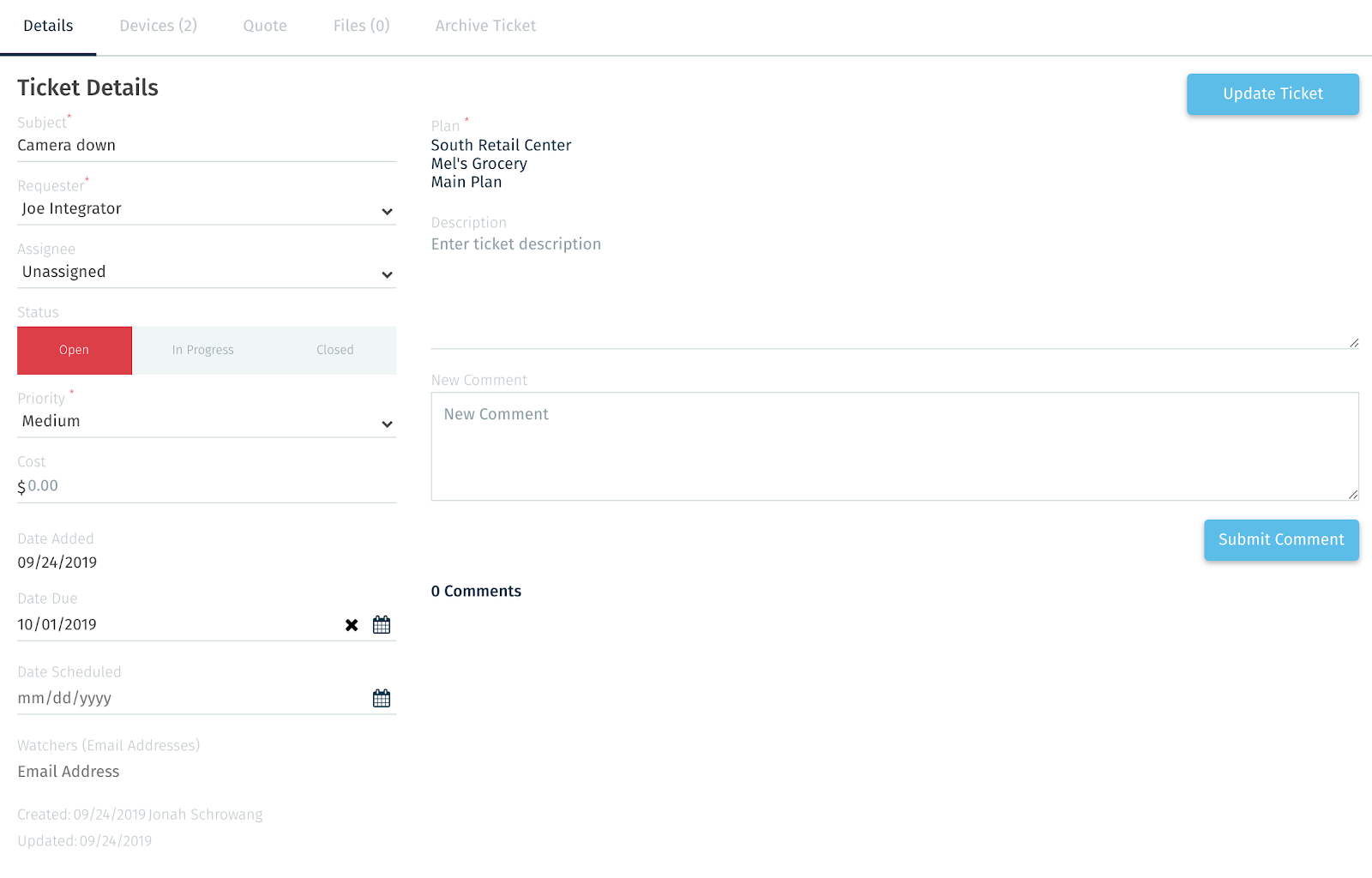 While every project may vary based on the customer's needs, security integrators that streamline the processes and leverage technology will have an easier time scaling into larger projects. In addition, the right technology tools will allow you to grow your bottom line and operate more efficiently,  
Whether it's a small business security system or a multi-facility installation for a government agency, SiteOwl can undoubtedly assist you in optimizing your next installation project.
Learn more about how SiteOwl helps integrators with large installations right here.