Managing data seamlessly across diverse stages is an ongoing challenge in the dynamic landscape of electronic security systems. Security integrators have a lot on their plates. They must be experts at everything from project management and installation to maintenance and lifecycle management.

3Sixty Integrated is a leading physical security integrator specializing in designing and installing integrated security systems for commercial and industrial facilities. But the road to success is paved with many challenges, one of the most complex of which is managing data across diverse stages of a project.
This article explores how 3Sixty's expertise in designing, installing, and servicing electronic security systems found its perfect ally in SiteOwl's solutions. 
Let's start with a question: How did SiteOwl's cloud-based computing and centralized data concepts help 3Sixty Integrated save time, effort, and money?
Here's a brief overview of this integration success story.
Help 3Sixty Integrated eliminate data replication and disorganization through every stage of the design and build process.
Established in 2002 as DHS Security, 3Sixty Integrated has evolved into a premier provider of electronic security systems, catering to government and enterprise clientele across Texas and neighboring states. 
After divesting its residential sector in 2008, the company rebranded and swiftly became the 9th fastest-growing security integrator nationwide.
Renowned for its trusted services, 3Sixty serves diverse clients, including the US military, K-12 independent school districts, higher education institutions, healthcare facilities, and enterprise-level enterprises.
SiteOwl's centralized data platform helped 3Sixty bring the sales, engineering, and production teams together inside the same digital workspace, eliminating team members needing to re-enter information into a different system. 
After implementing SiteOwl throughout the installation process, engineers, project managers, and technicians can submit critical system information in a neat and organized fashion.
Now that you have an overview of the success story let's explore how 3sixty Integrated leveraged the power of SiteOwl to streamline their process.
The Challenge of Managing Physical Security Data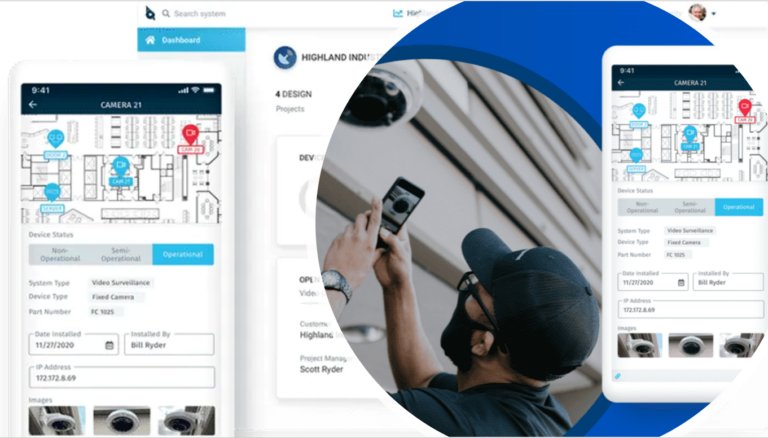 Managing data across diverse stages is an ongoing puzzle for most security integrators. 3Sixty Integrated was no exception, but their experience with SiteOwl's cloud-based platform helped them solve this. 
Let's look at the challenges that 3Sixty Integrated faced and how they leveraged technology to overcome them.
Different Teams, Different Tools
It's not uncommon for different teams within an organization to use different tools to achieve similar results. That's often because the information required at the end of a process may differ slightly between departments.
For most security integrators, this is an operational pain point that slows down workflows and causes team confusion.
For 3Sixty, it was no different.
"The sales team would use one software for site walks, and I would use another for shop drawings, and sometimes a third software would be used at the end of a project for as-built submittals," explained Lewis Flores, 3Sixty's CAD designer.
Flores is responsible for creating proposals, shops, and as-built drawings for almost every company project, and his work contributes to every stage of the process — from sale to install to final work summary. Because of his essential role within the organization, Flores knows firsthand how frustrating it can be to input the same information repeatedly.
This frustration didn't just stop at the sales and design process.
Keeping Design Plans Updated and Coordinating Team Information
As the system designer, Flores must also ensure his design plans stay current. In the past, he had to chase down team members to retrieve redlines and other essential change information from the field. Unfortunately, he often found that the information had been misplaced.
"It's a giant hassle trying to interrupt working people to gather all that information for a project they might have worked on a month ago," he said. "Plus, everybody works on different projects and has their own way of storing information."
For Flores, using different tools and different systems was a nightmare with no end. It was an inefficient and frustrating part of decision-making, and it often felt like an extra job on top of his design duties.
To address these challenges, 3Sixty streamlined its processes by adopting a cloud-based centralized platform that allowed them to seamlessly access and share real-time data across teams, including multiple providers.
The most obvious solution to distributed systems is a concept that's easy to visualize but difficult to implement: Migrate everyone to a single system, give everyone the same set of tools, and ensure those tools meet their specific needs.
That's exactly what SiteOwl does!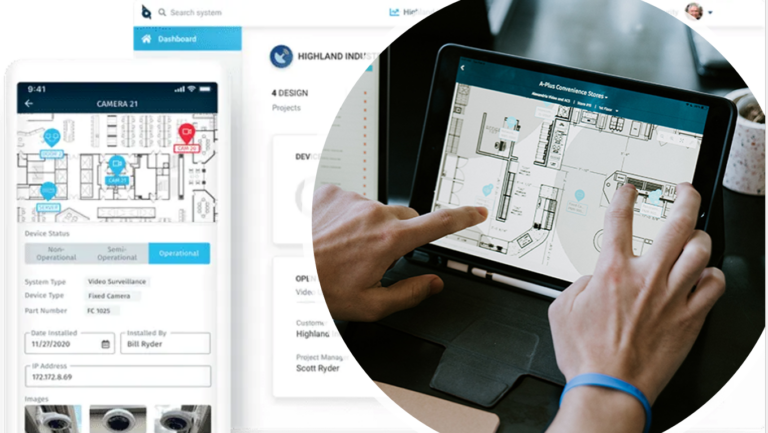 3Sixty partnered with SiteOwl and began making changes to its processes and workflows. It was a difficult transition, and Flores wasn't a fan for the longest time.
"I felt like SiteOwl just didn't have enough information to replace AutoCAD floor plans," he said, "but as more and more fillable fields and tools are added, I'm starting to see the real potential of SiteOwl."
Flores carefully points out that while SiteOwl has helped 3Sixty centralize its floor plan information, it doesn't replace some of the technical software he needs to get the job done. He says he'll always need CAD software and PDF software to create installation models and put together PDF packages.
As he explains, "I believe SiteOwl almost works as a BIM [Building Information Modeling] software inside of an individual company. BIM is used in the construction field to coordinate different trades on a project and to share information between individual contractors. SiteOwl essentially works the same way within a company, updating individual team members from different departments with important information as a project moves from beginning to end."
That ability to keep information centralized and updated helps every team member stay on task during the life cycle of the project.
The integration of SiteOwl helped streamline operations and address the duplication issues and time-consuming processes that previously hindered operational efficiency. But advanced technology alone won't change the way integrators approach projects. Platforms have to be designed to solve real problems and specific needs.
"SiteOwl is going to save you a lot of time and frustration at all stages of a project. Especially with floor plans and equipment schedules."
Lewis Flores – 3Sixty Security Systems CAD Designer
Replication Issues Resolved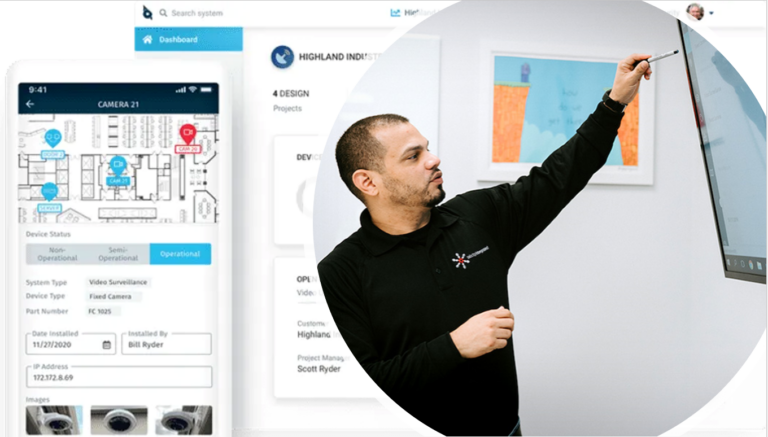 Since adopting SiteOwl into its standard workflow, the company has seen better efficiency around its data entry. Teams no longer need to waste time replicating the same information.
Because everything is centralized, sales teams can deliver proposals more quickly, and Flores can easily co-opt and implement the information that sales team members gather during their site walks.
The existing data is now readily accessible, reducing the occurrence of duplicate data and minimizing the need for redundant data entry. Furthermore, the system provides notifications that alert relevant team members about updates and changes, enhancing collaboration and ensuring everyone is on the same page regarding project initiatives. This seamless integration of SiteOwl has significantly streamlined operations and improved overall efficiency in managing data and project-related information.
"With SiteOwl, our team can design, plan, and install floor plans all on the same software, and information for hundreds of security devices does not have to be replicated over and over," Flores said.
Longer Viability for Design Plans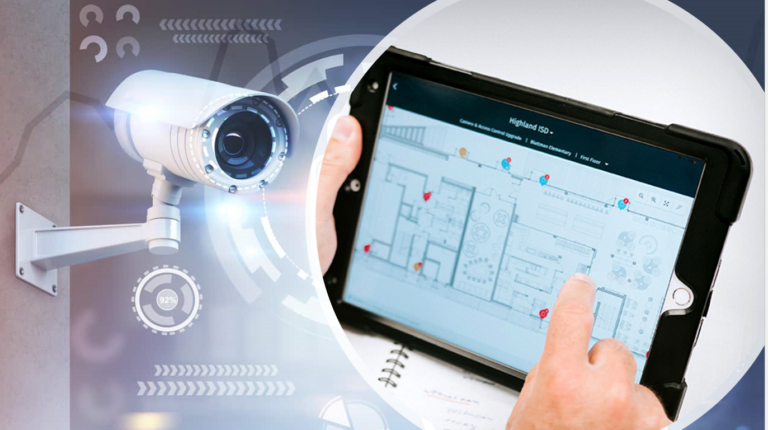 With SiteOwl, Flores no longer has to chase down installers to fill in the gaps on his floor plan.
Because SiteOwl accompanies technicians in the field via mobile apps, installers can add essential information like IDF assignments, IP addresses, and equipment part numbers directly into the floor plan as they work.
This functionality has increased efficiency, as installers can make real-time updates to the floor plans, ensuring the information is accurate and up-to-date. This not only saves time but also enables informed decisions to be made based on the most current data.
"With SiteOwl's Project Device Filters, I can quickly generate an equipment schedule with a few clicks using information that has already been put in during the design phase or updated in the field by technicians," Flores said. "For huge projects, separating, sorting, and inputting all that information manually would take days. With SiteOwl, I can complete this task in a couple of hours."
The elimination of the need for manual data collection has also reduced redundancies and the potential for errors. SiteOwl's scalability allows for the seamless integration of data from various sources, creating a comprehensive view of the project. Additionally, the system provides automated backups, enhancing data security and minimizing the risk of data loss.
Regarding benefits, SiteOwl brings significant cost savings by optimizing workflows, reducing the need for multiple tools, and minimizing the likelihood of errors that could lead to costly rework. The ability to aggregate data from the field in real-time also empowers teams with valuable insights and enables them to respond promptly to changes.
Moreover, this streamlined approach reduces vulnerabilities from manual data handling and information gaps. SiteOwl's comprehensive platform ensures that all stakeholders have access to the most accurate and up-to-date project information.
From Flores' point of view, that's what makes SiteOwl a key differentiator in his process. Integrating advanced technology into the workflow simplifies data collection and enhances collaboration, accuracy, and overall project success.
"I think it is a real possibility that SiteOwl will contribute to about two-thirds of a project's drawing submittals soon. With the rest being mostly title pages, indexes, legends, 3D/2D installation models, and wiring schematics," he said.
Fewer Frustrations All-Around
SiteOwl offers a range of use cases that enhance collaboration and data validation among different teams. This transition to SiteOwl signifies a significant step towards achieving greater operational efficiency and overall project success for 3Sixty.
Any company has a few key individuals who are central to any operation. Still, the responsibilities distributed to those individuals are often a source of frustration that can lead to overwork and burnout.
Since implementing SiteOwl into the company workflow, Flores has been able to eliminate tasks that would have otherwise been considered essential. As a result, he can focus on producing designs and creating the documentation that every company project needs to move forward.
"SiteOwl is going to save you a lot of time and frustration at all stages of a project," Flores said, "Especially with floor plans and equipment schedules."
For the sales team, that equates to a smoother sales process. For designers, it means fewer impromptu visits from Flores as he tries to capture missing data. And for customers, using SiteOwl delivers a more detailed and easily-managed security system when the process is complete.
Ready to revolutionize your workflow and optimize your project management? Embrace the power of SiteOwl's advanced platform to streamline operations, make informed decisions, and boost overall efficiency.