Top digitization challenges, opportunities, and physical security trends for financial services in 2023.

In the 21st century, most people think that bank robberies are a thing of the past. With so much attention and resources focused on cybercrime, physical security often gets pushed to the back burner. However, recent FBI crime statistics and studies show that bank robberies still threaten financial services. Moreover, the cyber-physical convergence has made physical security even more critical in protecting financial services.  
When it comes to addressing security concerns at banking and financial institutions, digitization and physical security have an important role to play. The challenge for most enterprises is that they tend to focus on cyber risks and adopt a more reactive approach when it comes to physical security. Fortunately, advances in physical security technologies such as cloud computing and artificial intelligence (AI) are making it possible to adopt a more proactive approach. 
In this article, we'll share the top challenges, opportunities, and trends that financial services security leaders should review to digitally transform the delivery and management of their physical security infrastructure in 2023 and beyond.
Physical security in banking has evolved toward integrated solutions with digitization at the core of the systems. Modern bank branch designs include high-resolution cameras, integrated access control, video surveillance systems, and biometric authentication systems. These systems provide a secure environment for the bank staff, customers, and assets. 
In addition to physical security, banks increasingly use digital technologies to provide a more convenient and efficient customer experience. The challenge for bank security directors is balancing providing a high level of security while ensuring that the experience is not overly invasive. For that, they rely on centralized management systems to manage the many devices deployed throughout the bank. 
Today's branch security technologies are designed to protect enterprise-wide information systems, including private networks and data storage facilities. These highly sophisticated technologies can detect and prevent unauthorized access to critical, sensitive, and restricted areas and systems.
The average bank branch has a number of security cameras and other sensors, as well as access to the latest in voice and video technology and intrusion detection/prevention systems.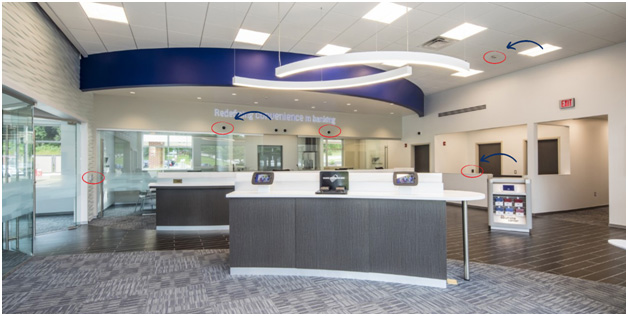 Digitization challenges for physical security leaders
Digitization refers to the process of making analog information digital. While physical security teams can benefit significantly by adopting a digitization strategy, industry complexities and a lack of tools to manage security devices digitally have hindered the transformation.
In today's digital world, an average bank branch requires many physical security devices and sensors, including surveillance cameras, alarm systems, sensors, access control systems, security lighting, etc. Additionally, these devices are often sourced from separate manufacturers and sometimes deployed across multiple buildings and time zones.
Once the devices are installed, the security team is fully responsible for managing these devices, often using legacy tools designed for the physical world. In addition, the team must monitor and control the numerous upgrades, adjustments, and other lifecycle issues that arise over time. The amount of manual labor is staggering for even the most efficient security department.
Top digitization challenges for financial institutions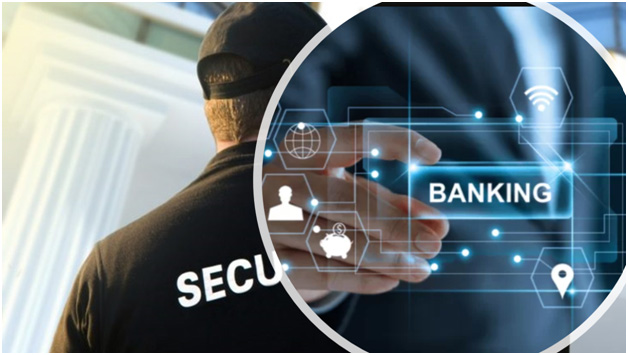 Digitizing physical security systems requires a coordinated effort across teams. Leading challenges to widespread digitization adoption include a lack of a digital transformation strategy, organizational resistance, budget constraints, and issues specific to the security industry, such as a lack of standardized security system management practices. 
Understanding the challenges and barriers other organizations commonly face when adopting digital transformation will help security leaders in the financial sector identify what is slowing down their organization and how to avoid stagnating in the future. Leading digitization challenges slowing down progress physical security progress at financial institutions include:
Poor visibility of systems and devices
Financial institutions must ensure at least minimum levels of visibility to maintain their physical security systems. In simple terms, financial institutions that lack visibility into their electronic security systems are likely unable to maintain robust physical security systems.
Electronic security systems technology and bank security needs are constantly changing and evolving. Physical security teams are less effective when siloed, so it's crucial to have the tools and technology to provide a holistic view of the organization's security infrastructure.
Digital transformation starts at the top, but most security leaders struggle to get C-Suite support. The main reason is that security is not a top priority for most companies until there is a major incident or crisis. As a result, security initiatives are often dismissed as a cost center, so it's up to security leaders to make the case for why investing in security is a key business initiative.
Opportunities of digitization
Digital transformation provides an excellent opportunity for bank security leaders to reimagine how they operate, streamline and manage their physical security systems with new digital processes and tools. 
The future is here, and thanks to cloud computing and lifecycle management platforms that enable organizations to manage their security investments and manage their legacy systems, it's now possible to leverage the latest technology and make the transition to a secure environment that's more flexible and less expensive. Opportunities for digitization for financial institutions include the following:
Data-driven decision making
The world is more data-driven than ever! Organizations are investing in automation and prioritizing ways to foster connectivity between internal and external systems to improve results and streamline operations. This requires real-time data processing from across the enterprise to make informed and scalable decisions.
Scalable security system practices
Security leaders need scalable solutions to manage the many physical security devices and sensors, such as surveillance cameras, access controls, and alarm systems throughout the organization. 
Legacy system modernization can be an important part of an organization's overall digital transformation. In an industry dominated by legacy technology, digitization allows financial institutions to upgrade their legacy systems and standardized security.
Reduce Total Cost Of Ownership
Digitization presents new standardization and optimization opportunities that enable financial institutions to manage their physical security systems more efficiently. It also provides sustainable, cost-effective ways to improve response times and anticipate lifecycle management issues.  

Physical security digitization trends
Today's digital transformation means limitless opportunities for those who can digitize their physical security systems. Here are just a few of the many trends that will continue to drive digitization.
Cyber-Physical security convergence
With the rapid evolution of technology, physical and cyber security are linked more than ever. In 2023, the cyber-physical convergence will only accelerate as organizations seek to eliminate the silos that are currently preventing these two indispensable departments from being on the same page. 
Cloud adoption acceleration
Cloud adoption among enterprise organizations is already over 94%. By 2023, 31% of organizations expect to run 75% of their workloads in the cloud. Some 27% of them plan to run at least 50% of their business processes in the cloud by then.
AI-enabled video analytics
AI-enabled video analytics offer significant value to enterprises, and in 2023 we'll see even more video surveillance innovation, including the ability to analyze data and draw out insights far more quickly than would ever be possible manually and high-resolution cameras that can observe and analyze a wider-than-ever field of view.
It's estimated that by By 2023, 90% of global businesses will have contract lifecycle management solutions implemented. Lifecycle management platforms enable security professionals to manage their system planning, design, installation, and service from one centralized location while providing system-wide visibility. Often, these platforms also have reporting capabilities that help security professionals to plan security investments. 
SiteOwl is the security industry's first unified, cloud-based digital platform that offers a full lifecycle management solution that helps security professionals design, install, and manage security systems in a digital environment. 
With SiteOwl, financial institutions can manage their physical security systems and maintain a robust security stance from a central location. In addition, SiteOwl allows a company to maintain a centralized database of all of its physical security systems and leverage the power of comprehensive infrastructure intelligence. 
Streamline Bank Security System Management
The time has come for financial institutions to embrace digital transformation. By 2025, three out of every four business leaders will leverage digital platforms to adapt to new markets and industries. Moreover, taking essential steps today will ensure security teams can predict and mitigate threats before they occur, freeing up resources to focus on strategic action and decisions.
Electronic security systems technology and bank security needs are continually evolving. By leveraging technology to generate greater intelligence, physical security will also be able to do more with less, improving operational efficiency and reducing expenses by 30-50%.
Lifecycle management is a top priority for security leaders that want to digitize their physical security systems. SiteOwl is leading the digital transformation in the physical security industry by helping organizations harness the power of your systems data, enabling you to capture actionable information and insights into a centralized platform to deliver alerts when necessary and operate safely.