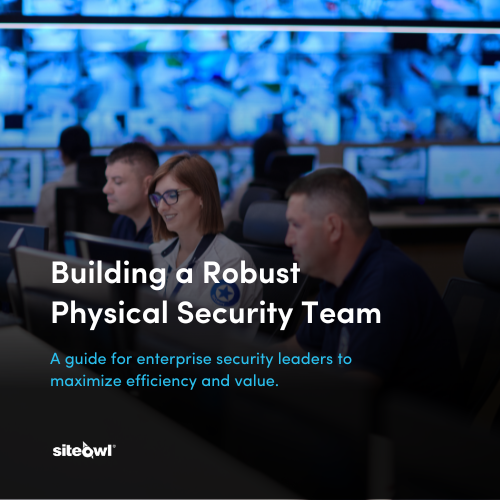 The ultimate guide to building a robust physical security team
The challenge you can't ignore
88% of U.S. businesses are grappling with increased physical security threats.

75% of companies consider physical security as one of their top priorities.

85% of cybersecurity breaches involve a human element, which includes exposure to physical breaches.
These numbers aren't just statistics, they're a call to action.
What this ebook is about
Are you confident your physical security team is set up for success? If you're part of the 88% of businesses dealing with increased physical security threats, then it's time to reassess. If you're an enterprise security leader looking to build a more effective version of your current security team, then this eBook is for you. It is a comprehensive roadmap to building a robust physical security team. And we're giving you a sneak peek right here.
Assessing Your Current Security Landscape
One of the first topics the eBook tackles is the assessment of your current security posture. Do you know the strengths and weaknesses of your existing setup? Are you aware of the potential risks lurking in your blind spots? This section provides you with a checklist to evaluate your current state, helping you identify areas that need immediate attention.
Adopting a Lifecycle Framework
A lifecycle framework isn't just a fancy term; it's a necessity for continuous improvement. This involves regular audits, updates, and training sessions. Our eBook offers a step-by-step guide on how to implement this framework effectively.
Technological Opportunities
From AI-powered surveillance to IoT sensors, technology is revolutionizing physical security. Our eBook discusses these advancements and how you can leverage them for enhanced security.
Ready to Dive in?
Physical security is not just another item on your to-do list; it's a critical component of your overall security strategy. Our eBook is your first step in fortifying this crucial aspect of your enterprise. Grab your copy of "Building a Robust Physical Security Team" and start turning your security challenges into operational wins.