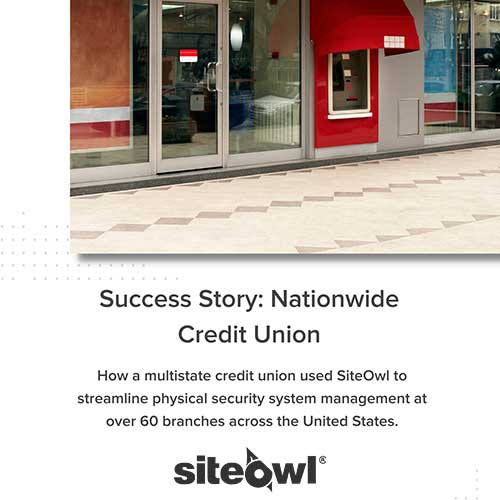 Leverage the power of technology to streamline the lifecycle management of your physical security system
Learn how a leading credit union used SiteOwl to streamline and optimize physical security system lifecycle management using SiteOwl's centralized platform.
Background
Credit unions require a high level of physical security for their employees, customers, and compliance. Accordingly, credit union security directors rely on physical security systems to provide the necessary level of protection. To accomplish this, they must manage hundreds, if not thousands, of security assets, including motion sensors, cameras, and alarms across multiple locations. 
A leading credit union with over 700K members used SiteOwl to streamline the management of their physical security systems across 60 branches nationwide.
Challenge
Financial institutions rely on physical security systems, but security directors often lack the tools to identify, track, and respond to ongoing security system issues in real-time.
"Before SiteOwl, I had to update different spreadsheets for each branch. I had a different spreadsheet for access control and another one for security cameras. Now, I know exactly where each camera is located, device details, and so much more."-Credit Union Security Director
To properly maintain and operate a large physical security infrastructure, credit union security staff needed complete visibility with real-time activity tracking and a centralized system of record to manage all system devices across multiple locations from a single interface.
Solution
"With SiteOwl, I am able to go in and see our entire security infrastructure which makes it easy to make changes and coordinate installations with our integrator." – Credit Union Security Director
Credit union leadership realized they needed a centralized platform to address their physical security lifecycle management challenges. And they knew SiteOwl was the right choice for them because of its many benefits.
| Before SiteOwl... | With SiteOwl... |
| --- | --- |
| (-) Managing security systems across multiple branches | (+) Comprehensive lifecycle management platform to maximize uptime and centrally manage all security asset information. |
| (-) Inaccurate or incomplete security system data | (+) Detailed status and device information across every branch from one central platform. |
| (-) Poor visibility of system issues and contract staff performance | (+) Complete visibility with real-time activity tracking and a centralized system of record. |
| (-) Lack of standardized security system management practices | (+) Tools that facilitate standardized deployment and maintenance. |
SiteOwl is the world's first integrated platform for the lifecycle management of electronic security systems.
SiteOwl's award-winning platform helps banks and other financial institutions get real-time, actionable information to confidently manage their security infrastructure.
Download the PDF to learn more about how SiteOwl can improve your security systems management and maximize your security investment.