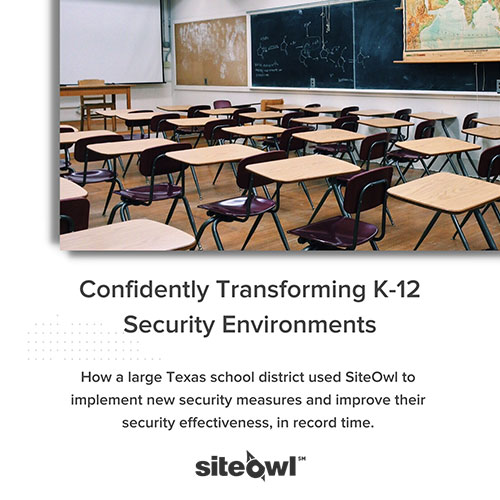 Improve School Security Systems Management With an Award-Winning Lifecycle Platform
Learn how a large school district was able to update its physical security systems in the aftermath of a major incident and how they continue to improve school security with SiteOwl.
Coordinating and managing security systems seamlessly is a top priority for every school.
Schools want to get the most out of their security investment. However, because schools use a wide variety of security technologies, each with its own purpose and reporting mechanism, it can be difficult for school officials to track and manage all system devices across multiple locations. 
Now, there is a better way for schools to design, install, and manage their security infrastructure.
In this case study, we'll show you how a large K-12 school district — used SiteOwl to enhance real-time visibility, streamline internal processes, and improve system performance.
This case study includes the following insights:
How school leaders used SiteOwl to quickly add security devices and update floor plans at more than 60 schools in less than 4 days.

How SiteOwl helped the school district obtain complete visibility of all physical security systems from a centralized cloud-based platform. 

Why having a centralized system of record with auditing, warranty, and lifecycle management improves the effectiveness of school security. 
Download the PDF to learn more about how SiteOwl can improve your integration processes and help your team deliver a better experience for every customer.